Tourism at beaches is a major activity that has developed significantly over the years. Tourism is an activity of moving a person from one place to mesmerize the beauty of that place to have fun. The island of St Barts is well known for its iconic and unspoiled beaches.
These beaches give wonderful views and experience of closeness with nature. There are many beaches on St Barts, and it is a bit difficult to suggest the best one because every beach has its own specific streak. Here I will give you the brief commencement of five beaches of St Barts and everyone will clearly get a site to visit with his own specific taste.
St Jean Beach
Among the wonderful and beautiful beaches of St Bart, St Jean Beach is included. This is located just near the St Barts airport. The famous thing about this beach is that it has a wonderful hotel in its center, this is famous because most of the beaches of St Bart do not have hotels.
This is also the Island's most popular beach best known for its white sand and calm waters. If you are a fond of swimming than it will be best option for you to stay because the calm water of this beach offers you a wonderful experience of swimming and sailing. The airport is on the west side of the beach and its really a fun watching small planes taking off and landing on a small strip.

Colombier Beach
For getting to this beach, you have to be on your foot and that involves a scenic and a short hike down a hillside. You have to hike for almost 30 to 40 minutes, but I assure, you will not get bored because it offers many beautiful sceneries and sometimes you see turtles and little sea creatures in a clear water.
This is a perfect place for the ones who like the isolated places. After the hike you will relax at shady and beautiful shore.
One of the most famous things about this beach is the iconic view of sunset. The sunsets are spectacular. This located on a bit top and that is why you experience a wonderful sunset at Colombier Beach. You should go there with a picnic lunch and spend the day snorkeling and swimming.

Governor's Beach
It is located on the Island's south side and it is near to the parking lot. This beach possesses some of the most dramatic landscapes. The famous thing about this beach is the colors of water that sparkling down from the sun. These watercolors gave a soothing view to one's eyes that sitting on the clear sand of this beach.
The governors beach is beautiful little by little a golden gum emerges from the coconut palms, a glimpse of the emerald bay far below and the golden sand. You will enter trough the lush green trees and after that a view of cliff face descending into the water. This beach also possesses the exquisite views of other beaches.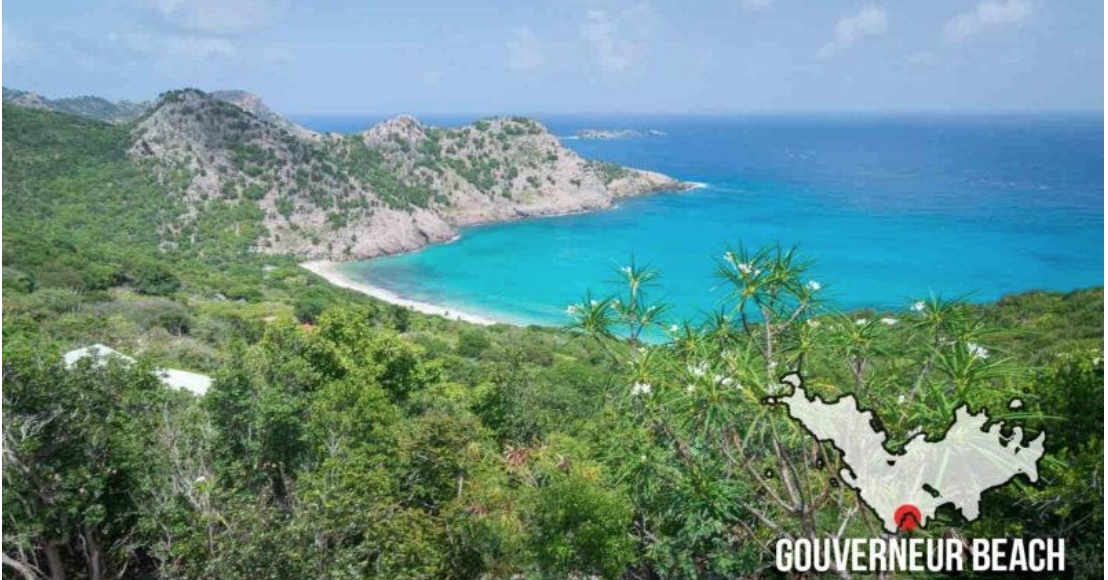 Saline Beach
There are some people who want to go on a tour but also do not like much crowd than this beach will give them an eternal peace. 15 to 20 minutes easy hike on a rocky terrain from the parking lot will lead you to a body surfable waves of Saline Beach. The sides of the beaches end with the large rocky hillsides who look stunning when you see them from the stunning stretch of sand. It is known for one of the long and deep beaches of St Bart and the best part as I mentioned above it is usually empty.
There is no hotel or resort on this beach as you have to take some picnic things with you, or you have to go Grain de Sel for the lunch. When you will walk to go on this beach the sand may be bit hot for you, so it is recommended to have sandals with you. The tourists will feel that this beach is specifically undisturbed from the development of St Barts.

Flamands Beach
This is the longest beach with the finest sand on St Bart. It is located on the Northwest side. The famous thing about the Flamands Beach is the spectacular surf and somehow the empty shores that give a sense of tranquility and if you want all the ingredients of a fine beach like some sand, some surf, some sun, and some shade than just pack your bags and go to this beach and have a good time.
The powdery sand and moderate surf make a perfect match for a beach day and from this place you will also have a view of small cluster islands on the north side. At the evening when sun dips below the hills and spread different colors through the peaks make a perfect view of a sunset.

How to choose the best beach
It's not easy to say because every tourist has a different taste, some are fond of crowdy places and some loves the empty shores, some like to have a lunch on a resort on the beach and others wanted to have a picnic lunch on some side of the beach, some loves to do swimming while others just want to have a sunbath on the sand, so everyone have a different mindset of tour.
When you plan to visit the beaches of St Bart just read the upper paragraphs in which I briefly explained the specific qualities of all the beaches of St Bart.