Make the most of your holiday in St Barts to get some time out for yourself, and what better way to relax than with a massage?
This therapeutic technique was developed by our ancestors across a multitude of civilisations; massage therapy or "healing massage" brings together a wide range of manual practices. Despite their differences, they all have the same aim: wellness.
They promote relaxation both at a muscular and nervous level as well as boosting blood and lymph circulation, elimination of toxins and helping vital organs to function correctly.
Over time, massage therapy has gradually been perfected, refined and modernised.
Different types of massage you can look for in St Barts
Deep tissue
The deep tissue massage technique is recognised for its beneficial effects on muscles, helping to release tension as well as reduce aches, pains and inflammation.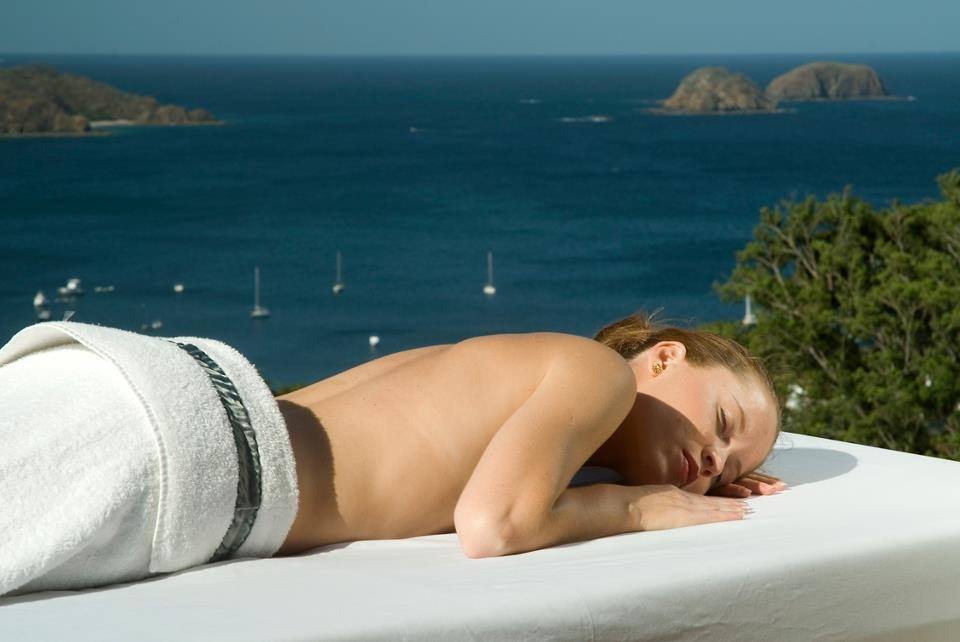 It helps the layers of muscle to become more supple. This technique loosens adherence between layers of tissue while also decongesting them.
It relieves chronic tensions and contracted zones (neck, lower back and shoulders) by reducing pain and promoting more freedom of movement.
Swedish massage
This is carried out on both muscles and soft tissue. It improves blood circulation, reduces muscle tension, relieves back pain, chronic pain as well as emotional stress. It is an ideal massage for relaxation.
Avoid large meals and alcohol during the hours before this massage. Not recommended for pregnant people.
Sport massage
These massages provide a range of tangible benefits. Before activities they help with relaxation, preventing muscular pain and warming up the muscles.
During breaks in the activity, this type of massage relieves any muscular and joint trauma.
At the end of a sports session, a sport massage will relax muscles, regulate venous circulation and drain the circulatory system in order to eliminate accumulated toxins, providing optimal recovery.
Hot stones massage
Pebbles and volcanic basalt are heated in water at 50°C and placed along the meridians and acupuncture points. The body relaxes and muscular and joint pains are treated.
This practice eliminates toxins and strengthens the immune system. It improves blood circulation and helps fight against water retention. It will help you get rid of your stress, increase your wellness and provide an extreme feeling of well-being.
Where you can enjoy a good massage?
Noémie has been working as a masseuse in her salon for more than 16 years and has developed and refined her knowledge and skills in far-off lands such as Bali or Hawaii.
She uses organic Brazilian coconut oils or organic essential oils produced in France perfect for dry skin. She will also provide beauty care for your hands and feet.
Massage for pregnant people
Given the upheavals your body goes through for 9 months, it is important to look after yourself before the baby arrives. This massage provides relief for aching joints and back tension. It also regulates blood circulation.
Swedish massage
This relaxes tired muscles and provides relief for stiffness and muscular pains by alternating larger movements and stretching exercises.
Californian massage
Californian massage is a massage technique featuring loose movements across wide areas of the body. It is very popular, providing intense relaxation for both mind and body.
Ayurvedic massage
This massage originated in India, and it helps to purify the body. Hot organic sesame seed oil is applied to the whole body via a series of gentle movements, all to the sound of soft Indian music. It releases physical and mental tensions, reduces fatigue and insomnia, detoxifies and helps energy to circulate.
Thai foot reflexology
This ancient practice involves massaging and stimulating each zone of the sole that corresponds to an organ, a gland or a part of the body using a red oak baton in order to activate blood circulation, remove any physical and emotional blockages and liberate the energy flow throughout the body.
Directly in your villa!
If you wish, Noémie can come directly to your villa in Saint Barthelemy, where she can provide a wide range of massages.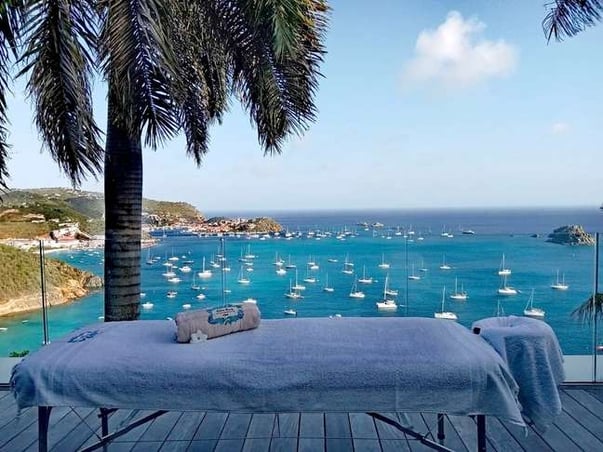 Enjoy the best spas on the island
Cheval Blanc Spa
The unique Palace of the Caribbean, the Cheval Blanc Saint Barth Isle de France hotel sits on the edge of Plage des Flamands, which is widely considered to be one of the most beautiful on the island.
Cheval Blanc Spa nestles there in the heart of a tropical garden. The service and the treatment, provided by Maison Guerlain, will provide you with a unique experience where wellness and beauty take centre stage.
It features four treatment cabins, a sauna, a hammam and an outdoor relaxation pavilion. In these immaculate white surroundings, this place will provide an atmosphere conducive to peace and harmony. The spa treatment rituals will take you on a veritable journey of the senses, on the road to relaxation or energisation.
Eden Spa
Eden Rock, the first hotel ever built on Saint Barthélémy, stands out as a luxurious slice of paradise, perched on a rock, beside a turquoise sea and beaches of white sand.
The Eden Rock Spa has joined up with "Ligne Saint Barth", the Caribbean cosmetics company that only uses natural ingredients.
Let yourself be swept away by the local scents and the benefits they bring to your body.
The spa services can be provided in the intimate setting of a bedroom, on the private terrace of the hotel with the Caribbean Sea as your only horizon or even to the melodious rhythm of the waves, in a small pavilion on the beach.
A massage using coconut oil and papaya is provided to protect sensitive skin. A green clay and fresh melon mousse body wrap awaits you, with its refreshing and moisturising benefits after a day in the sun.
You can also enjoy a deliciously relaxing experience using hot shells and a treatment featuring avocado oil perfumed with tiaré.
Sisley Spa in the Hotel Christopher
The 5-star Hotel Christopher of St Barth, nestling between crystal-clear water and Pointe Milou, features, in the heart of its tropical garden, a spa with three spacious cabins that are open to nature where the ocean and Les Alizées contribute to the sensorial nature of the treatments.
In partnership with the prestigious cosmetics brand Sisley, their catalogue features various rituals that originate from across the globe.
Each ritual respects the ancient traditions of the region it originates from and is aimed at caring not just for the body but also the mind, notably by judicious use of aromatherapy.
Care products from Sisley are all made using natural plant extracts and essential oils, providing incomparable efficacy in skin care.
Sisley Spa was voted best Spa in the Caribbean and best Spa on St. Barthélemy at the World Spa Awards 2020.