Are you planning a trip to the stunning island of St. Barth and wondering how to easily find available taxis without the usual hassle? We've uncovered a valuable online tool that's here to help, and we want to share it with you.
Introducing the St. Barth Taxi Directory: This user-friendly website provides a comprehensive list of currently available taxis on the island, complete with their contact details.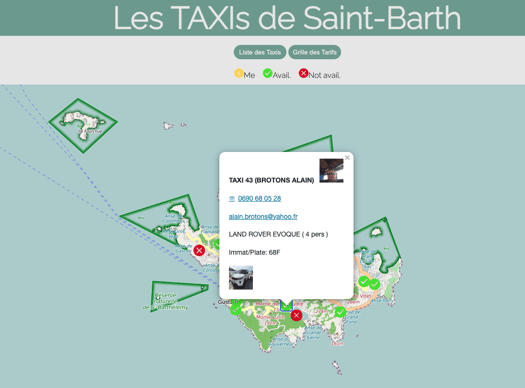 Why It's a Game-Changer:
Effortless Taxi Locating: Finding a taxi in St. Barth can sometimes be a bit of a challenge. With this directory, you can quickly see which taxis are currently in operation.

Contact Information at Your Fingertips: No more jotting down numbers or struggling to remember them. The directory conveniently lists the contact details for each taxi service.
How to Make the Most of It:
Visit the website.
Browse the list of available taxi services.
Select your preferred option.
Use the provided contact details to request a ride.
Say goodbye to transportation woes and hello to a more convenient St. Barth adventure. With the St. Barth Taxi Directory, you can explore the island's beauty and culture without the stress of finding a ride.
Discover the St. Barth Taxi Directory here and enjoy a smoother journey through this Caribbean paradise. Plus, stay tuned for the upcoming smartphone app launch to make your taxi bookings even more convenient.
Bon voyage!