A warm, sunny climate year-round; fine sandy beaches and turquoise waters; the opportunity to enjoy a wide range of watersports such as scuba diving, surfing and sailing; a diverse culture full of African, American and European influences; and communities that are welcoming to newcomers... These are just a few of the things you can find if you move to the Caribbean!

But which island to settle on to make the most of this sweet lifestyle? Cost of living, wellbeing, security, jobs... It's important to weigh up the pros and cons of all the different islands of the caribbean before making your decision. Here are the top 5 most desirable locations to help you make the right choice!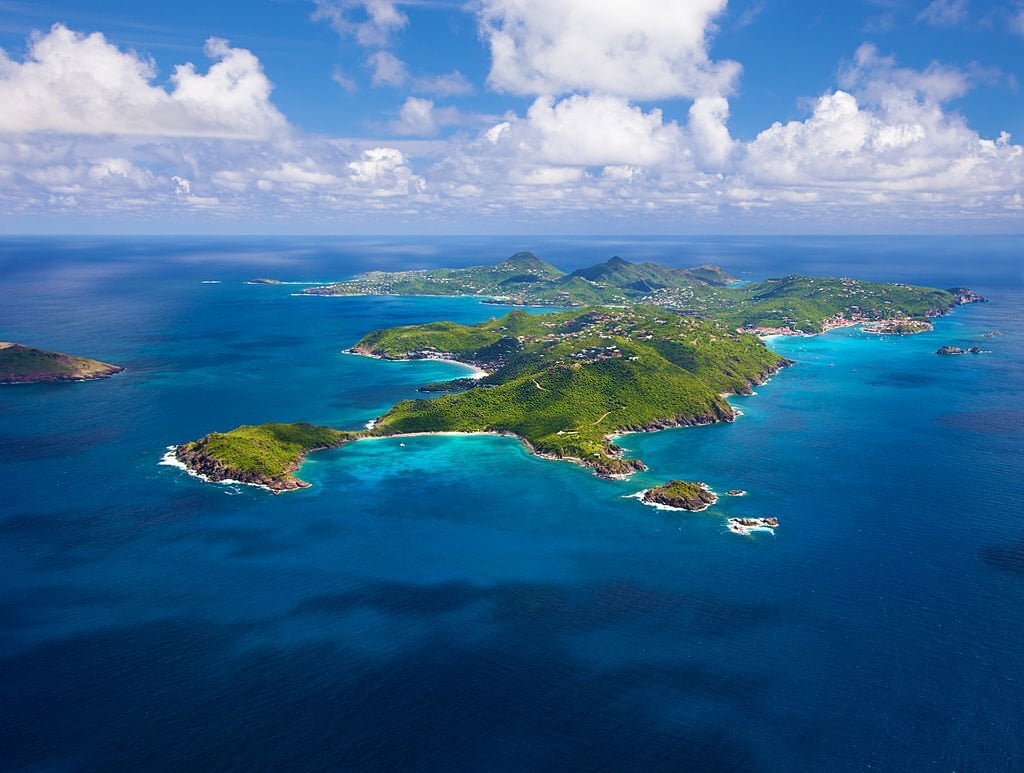 Saint Barthelemy, the pearl of the Caribbean
Credit where credit it due! Saint-Barthelemy is a small French island in the Lesser Antilles that can only be described as relaxed and refined. Its heavenly sandy beaches, peaceful tropical environment and diverse outdoor activities make this island the preferred destination for luxury tourism.

The real estate market in St. Barts is full of villas with sea views, particularly attractive thanks to the almost year-round pleasant weather.

The island has a population of just over 9,000, with French as the official language. However, many Saint-Barths (as the island's residents are called) also speak English and Spanish. The quality of life in St Barts is exceptional with a very friendly population and no worries about safety.

The Bahamas
The Bahamas is made up of a multitude of islands and cays in the Atlantic Ocean. They number 700, with Andros being the most populous with 7,300 inhabitants. The archipelago is a popular holiday destination due to its beautiful scenery, white sandy beaches and relaxed lifestyle.

The most popular watersports activities here are deep-sea fishing, sailing and snorkelling. With a pleasant climate almost all year-round, exploring the beautiful, unspoilt coral reefs is a delight.

That said, the cost of living in the Bahamas is relatively high, especially for imported goods. Employment opportunities are limited to touristic professions and infrastructure is limited in certain parts of the archipelago. However, excessive tourism development can be a problem for some residents, leading to an increase in crime in some areas. The official language is English, but Spanish and Bahamian Creole are also commonly spoken.

Guadeloupe
Guadeloupe is a French overseas department. This group of volcanic islands is characterised by their natural beauty and beaches of black sand. With a surface area of 1,628 km², the population of 400,000 is spread between large, lively towns such as Sainte-Anne and quieter places such as Basse-Terre.

People come to Guadeloupe to enjoy the delicious cuisine, immerse themselves in the Creole culture and indulge in the lively nightlife. And of course, there are outdoor activities such as scuba diving and hiking. Families enjoy a good quality of life here.

However, there can be problems with the high cost of living on some imported goods and the relatively high rate of unemployment. Furthermore, the infrastructure may be insufficient for some basic services, especially medical.
The Dominican Republic
Living in the Dominican Republic means immersing yourself in a rich culture of Hispanic and American influences. Beautiful stretches of fine sandy beaches are kept warm by a year-round pleasant climate. The country's history is rich, which contributes to a thriving tourist industry. Prices are relatively low compared to Western European countries, offering a good quality of life for retirees.

Nevertheless, settling there means dealing with a few everyday obstacles: the language barrier, the official language being Spanish; the high level of insecurity in certain regions; the less developed infrastructure; and the lack of health care.
Saint-Martin
Saint-Martin is unique in that it is divided into two parts, one French and the other Dutch. This tropical "luxury" island is located in the Caribbean Sea, halfway between Guadeloupe and the US Virgin Islands. It is renowned for its fine sandy beaches, turquoise waters, watersports and beautiful nature reserve. It has a cosmopolitan culture, mixing Creole and international cuisine and entertainment for all ages.

However, life on a small island like Saint-Martin can be quite different from that of the big cities: due to higher living costs and limited infrastructure. Also note the lack of certain infrastructural facilities in certain parts of the island.

So which Caribbean island should you choose to stay on for the long term?

It all depends on your expectations and needs. If your main requirement is a beautiful environment with a sunny climate twelve months of the year, any of these destinations can satisfy you. All of them offer fine sandy beaches, crystal clear waters and very pleasant temperatures.

The same goes for the watersports activities such as scuba diving, sailing and fishing that you can enjoy on any of these Caribbean islands.

If you want to live in a cosmopolitan atmosphere with an international population and high-end shops; if you like to enjoy a diversity of gastronomic choices with restaurants offering French, Italian and Creole dishes; if you aspire to a high quality of life in a safe environment with a low crime rate: Saint Barthelemy ticks all the boxes!

In addition, you can take advantage of the proximity of travel destinations such as Saint-Martin and Anguilla. It is therefore important to weigh up the advantages and disadvantages of each destination before making an important life decision.