There is no shortage of cool bars and nightclubs in St Barts. Whether you are searching for a cocktail bar with magnificent sunset views or want to dress to the nines and dance the night away at a posh nightclub, it is easy to find a place to have a good time on this charming Caribbean island.
Top bars you should not miss
The Select
No visit to the island of St Barts is complete without stopping by the legendary Select. Located in the heart of Gustavia, the Select is a popular café that attracts both tourists and locals alike. This café with small wooden tables and a snack bar inspired Jimmy Buffett's song "Cheeseburger in Paradise".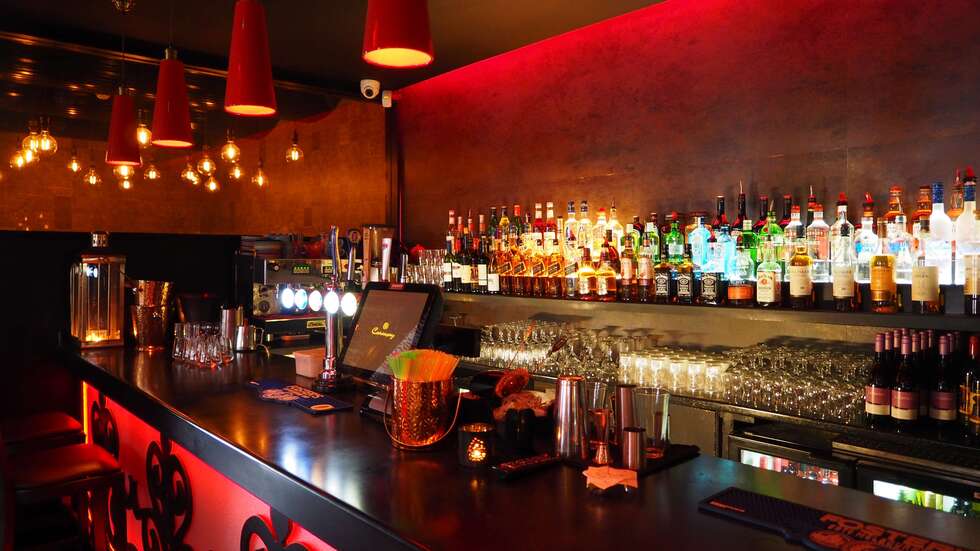 The bar's shaded terrace is a great place to get away from the heat and enjoy a range of Caribbean beers and rum. If you get hungry, order their classic cheeseburger served with French fries. Opened in 1949, the Select is one of the oldest cafes on the island.
Bagatelle bar
You will find the Bagatelle bar directly on the harbor in Gustavia. Well-known for its laid-back vibe, this chic venue is a perfect spot for sunset cocktails and enjoying views of the yachts in the marina. The resident DJ, Fabien Lanciano is in charge of entertaining the crowds and a team of professional bartenders are here to prepare signature cocktails using the freshest ingredients.
We recommend ordering their super mojito or enjoying a glass of rose sangria at Bagatelle Bar in St Barts. Foodies visiting Bagatelle bar can look forward to having a memorable dining experience and enjoying food delicacies such as linguine with clams and slow-cooked lamb leg.
Bonito bar
Located close to the port of Gustavia, the Bonito Bar in St Barts offers spectacular views of the harbor and boasts a sophisticated vibe. Celebrities like Pippa Middleton are frequent visitors to this posh establishment. Therefore, it comes as no surprise that the elegantly decorated Bonito Bar is one of the hottest harbor bars on the island.
The artisan cocktails are prepared right in front of your eyes by a professional mixologist. In the kitchen, Chef Laurent Contineaux is in charge of preparing delicious French and Caribbean dishes. In addition to its amazing interior, tasty artisan cocktails, and mouthwatering foods, Bonito Bar hosts DJ performances throughout the week.
Nikki Beach
An iconic brand renowned for its chic ambiance and luxurious decor, Nikki Beach Club has a trendy restaurant and a beach club on the beautiful bay of St Jean in St Barts. This world-famous beach club attracts crowds of celebrities and VIP's looking for a good time on the island. Dance to the sounds of international DJs, enjoy champagne and cocktails, and sample a variety of tasty foods ranging from fresh salads and sushi to Tahitian tuna tartare and local calamari.
The best time to visit the Nikki Beach Club is from 11 am to 7 pm when a chic clientele looking for entertainment on the beach flocks here to party. For those who don't know, celebrities like Jay Z and Beyoncé, Mariah Carey and Bono have visited Nikki Beach Club in St Barts. If you are searching for a trendy beach club with a party atmosphere while vacationing in St Barts, a visit to this place is simply a must.
La Cantina
Travelers looking for a place to start the evening can pay a visit to La Cantina in St Barts. Located in Gustavia on the harbor, this fabulous bar and restaurant is a friendly spot to visit with friends, family, or with that special someone.
Sit on the outdoor terrace with amazing sea views and enjoy the friendly atmosphere. On the menu, expect to find a range of salads, cheese platters, and club sandwiches. Try the salmon tartare or order the fish carpaccio. To sum it all up, La Cantina is a great restaurant to have an aperitif and sample simple foods before hitting the nightclubs in St Barth.
Best clubs to Party!
Partygoers vacationing on the island of St Barts will be pleased to hear that this Caribbean island is home to many fabulous nightclubs. Most of these venues you will find in the capital city of Gustavia. Each of these venues has its own special vibe and offers something different and unique! If you wish to dance the night away, enjoy a lively jet-set atmosphere, and listen to loud music, check out these cool nightclubs to party in St Barts.
Casa lounge
Tucked inside a small alley in the harbor town of Gustavia, the Casa Lounge is a place to visit for an unforgettable clubbing experience in St Barth. Keep in mind that the club changes its name quite often, but if you ask where to find "Casa", everyone on the island will point you in the right direction.
Although the entire venue consists of one large room, this trendy nightclub is famed for its chic and festive vibe. Expect to see international DJs spinning records at Casa throughout the week. On the drinks menu, guests will find everything from beers and wine to hard liquor and unique cocktails. Keep in mind that this elegant nightclub is open from 8 pm.
Le Ti St Barth Caribbean Tavern
If you are in the mood for something completely different while vacationing on the island, pay a visit to the Le Ti St. Barth and enjoy a unique show with burlesque dancers. A Caribbean cabaret since 1995, this venue has a Moulin Rouge vibe. The dimly lit bar and restaurant hosts burlesque performances with dancers in costumes and accessories.
Having dinner at Le Ti St Barth is also a part of the experience. Once the dinner show is over, both performers and guests can dance the night away in this venue. For a fee, you can go into the backroom, select a burlesque costume, and take photos. The show is not offensive, but also not for the kids.
If you are keen on taking pictures, don't hesitate to go for a walk along the beaches of the island, there you may find secret places with paradisiacal views. Sunbathing, surfing, and visiting : there are a lot of fun things to do in St Barts! Then, you may feel hungry. Don't worry and come to one of the 15 best restaurants of St Barts to enjoy a delicious dish!