A charming island in the French West Indies, St Barts is an ideal destination for a memorable vacation in the Caribbean. This exclusive playground for the rich and famous is all about luxury! From megayachts that dominate the marina and picturesque beaches dotted with swaying palm trees to luxury designer shops and posh boutique hotels and chic villa rentals, the tropical island of Saint Barthelemy has everything you need for an ultimate winter escape.
There are a few reasons why the island of St Barts attracts millionaires and Hollywood celebrities. The island is relatively untouched by mass tourism, which means that you won't find those giant resort-style hotels here. Instead, the island is home to small boutique hotels and privately owned villas where spending a few nights comes with a hefty price tag.
High-Quality Accommodation
Cheval Blanc Saint-Barth Isle de France
Located on the northwest coast at Anse des Flamands, Cheval Blanc Saint-Barth Isle de France is without a doubt one of the finest luxury hotels in St Barts. This luxurious property is home to 40 tastefully decorated rooms and villas where travelers will find a wide range of modern amenities. The hotel sits right beside a long sandy beach with sumptuous loungers and yoga mats.
There is the award-winning Guerlain Spa with four treatment rooms, as well as two swimming pools and a state-of-the-art fitness center for guests who wish to work out. Once you get hungry, have an unforgettable dining experience at Jacques Grange-designed La Cabane beachfront restaurant and the dinner-only La Case restaurant. Not to be missed are the signature rum-based cocktails!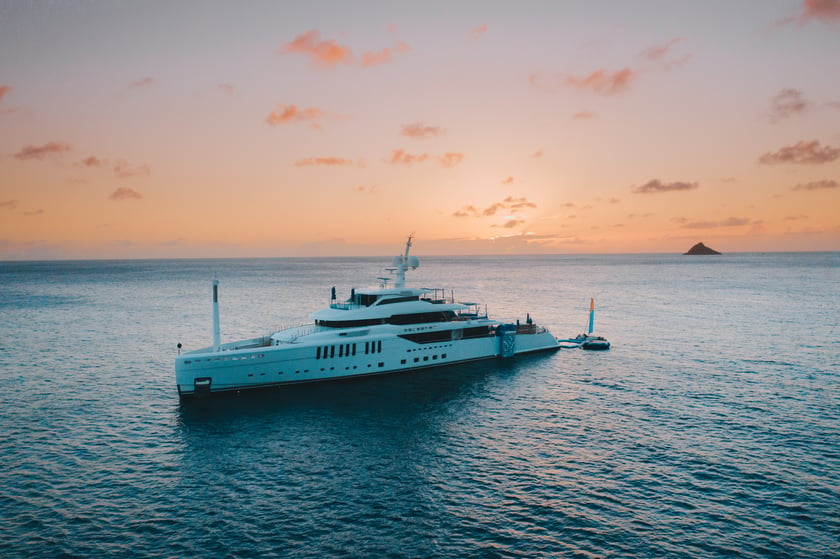 Eden Rock
With 37 rooms, villas, and suites, Eden Rock is a luxurious boutique retreat nestled on a rocky promontory in St Barts. Each room is decorated in a unique style and all units have direct access to the beach. Suites come in different sizes and many of them have private swimming pools.
The property is so cool that it doesn't need a reception. Instead of walking up to the front desk, just approach the accommodating staff in red and white uniforms and they will be more than happy to assist you in every way possible.
The hotel boasts an award-winning spa where guests can enjoy a wide range of health and beauty treatments. Wish to sample some fine French cuisine? Make your way to the on-site restaurant where the world-renowned chef Jean-Georges Vongerichten is in charge of preparing mouthwatering French food delicacies.
Paradisiacal Beaches
The island of St Barts is well-known for its pristine beaches with crystal-clear waters. There are 22 amazing beaches on the island and each of them offers a unique experience. Whether you wish to spend a day at the posh Nikki Beach Club, enjoy some peace and quiet at the remote Colombier Beach, visit one of the most picturesque places on the island also known as Saline beach, or spend a day at the easily accessible Gouverneur beach, there is no shortage of spectacular beaches on this Caribbean island.
Travelers can also look forward to a variety of water activities including everything from scuba diving and snorkeling to surfing.
Yachts for Charter
One of the best ways to experience the island and see it in all its glory is with a luxury yacht charter in St Barths. Finding a private catamaran or a yacht rental in St Barts is super easy. Just ask your hotel concierge or someone from the villa to book that perfect boat for your next luxury cruise in St Barts.
By hopping on a yacht rental, you will have easy access to some of the remote beaches on the island like the Colombier and Shell Beach. Visitors exploring St Barts with a yacht rental can also look forward to enjoying activities like fishing, diving, and snorkeling.
Luxury Shopping
Shopaholics visiting St Barts are in for a real treat. The island is home to some of the world's most famous luxury and designer shops and most of them you will find in the capital of Gustavia on Quai le Republic, Rue du Général Charles de Gaule, and la rue du roi Oscar.
Expect to find over 200 shops and boutiques ranging from luxury international designer labels to local shops. Purchase a cool handbag from Louis Vuitton, get a printed silk dress at Popupette, shop for luxury watches at Cavar, check out Lolita Jaca's beach cover-ups, and get the finest perfumes and designer clothes from Ralph Lauren.
St Barth Gourmet Festival
Besides being home to some of the best French-influenced restaurants in all of the Caribbean, the island of St Barts is also famous for its amazing international gastronomic festival called St Barth Gourmet Festival. This prestigious event takes place every November and celebrates the best in contemporary French cuisine.
During these five days, star chefs arrive from France and cook at some of the best restaurants on the island. The first edition of the festival was back in 2013, while the 2020 edition was canceled due to the Covid 19 outbreak. Hopefully, St Barth Gourmet Festival will return in 2021 stronger than ever!
Calm Et Discretion
Since the island of St Barts attracts an upscale clientele including many celebrities, many guests are wondering if calm and discretion can be found here. You can be reassured that vacationing in St Barts allows you to have a stress-free vacation experience in the Caribbean. You won't find any paparazzi here and discretion is guaranteed.
Villas Offered by Happy Villa
In addition to some of the best boutique hotels in the Caribbean, the picturesque island of St Barts also offers luxury villa rentals and there is something for everyone. Looking for a luxury villa with amenities and facilities of a 5-star hotel in a secluded location or you wish to stay close to the port town of Gustavia and spend your days chilling by a heated outdoor pool while sipping on a cocktail?
No worries! Happy Villa is a St Barts specialist that offers a variety of luxury villa rentals across the island. From easy online booking and personalized service to comfortable transportation from the airport and ferry and a welcoming basket that includes a bottle of champagne or wine, they have it all!