Well-known for its pristine beaches with turquoise waters, charming architecture, and luxurious boutique hotels and villas where the rich and famous spend their vacation days, the lovely French-speaking island of St Barts is an ideal destination for a tropical holiday in the Caribbean.
If you wish to venture outside the island and discover other amazing tropical destinations which are easily accessible from Saint Barthélemy, this list of the best Caribbean islands to visit from St Barts might just be what you are looking for.
Anguilla
Compared to St Barts, Anguilla is more of a low-key and unspoiled destination where celebrities flock to get away from the media. The biggest draw is the island's white-sand beaches with crystal-clear waters and there are 33 of these palm-dotted white sand shores for visitors to enjoy.
Whether you want to swim in luminous waters at Meads Bay, go snorkeling at Shoal Bay and Maundays Beach, or dine at waterfront restaurants and bars at Rendezvous Bay and Sandy Ground, you are spoiled for choice when vacationing on this fabulous Caribbean island. If you wish to spend time on a secluded beach, we recommend hopping on a boat to the lovely Little Bay.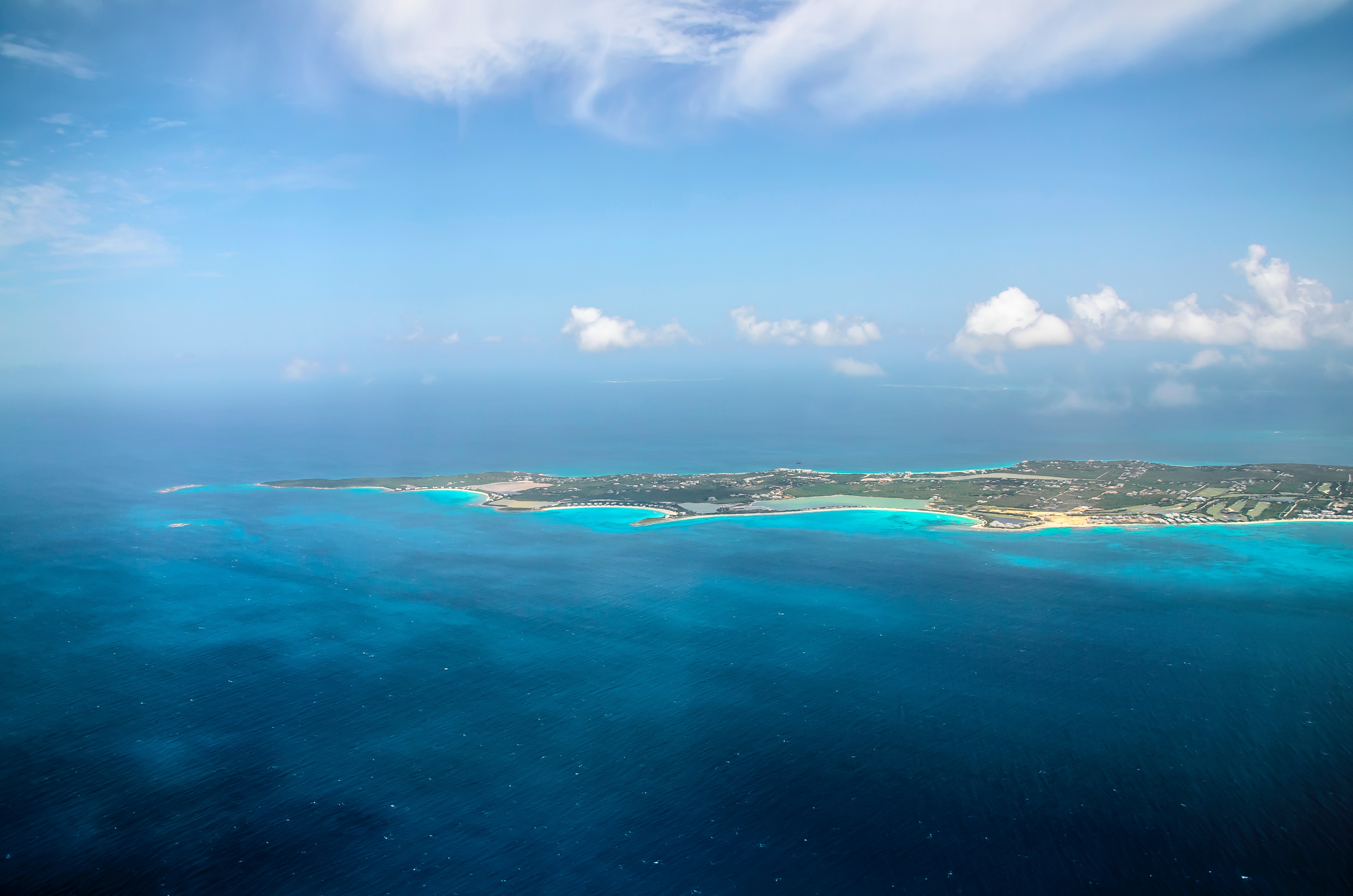 Adventurous travelers will be pleased to hear that this island is a popular diving destination in the Caribbean and has seven marine parks blessed with vibrant reefs and marine life. Experienced divers looking for wreck sites can check out the popular wreck of Sarah, as well as Meppel and Oosterdiep.
Apart from relaxing on the beach and enjoying luxury accommodation at posh hotels and private villas, travelers visiting Anguilla from St Barts can pay a visit to some of the island's main attractions. Head out to the Wallblake House, a lovely plantation home from the 18th century. You can also drop by the only museum on the island, the Heritage Collection. Here, you can learn more about the history of Anguilla. The island's thriving salt ponds are an ideal destination to go bird-watching.
Foodies visiting Anguilla are in for a real treat. Whether you are craving some fine French cuisine, want to try some local Creole dishes, or enjoy Asian delicacies, there are many amazing dining establishments on the island worth visiting. Some of the best restaurants include Pimms at the Cap Juluca and Koal Keel in the Olde Valley.
St Kitts and Nevis
Located just west of Puerto Rico, the charming sister isles of St Kitts and Nevis have everything you need for a tropical vacation in the Caribbean. Expect to find a volcanic mountain surrounded by picturesque white-sand beaches, as well as many engaging heritage sites and luxurious hotels and villas.
You can look forward to enjoying activities like hiking up a volcano, snorkeling in crystal-clear waters, and hoping on a Scenic Railway train ride. Nature lovers looking for cool viewpoints can hike to the Timothy Hill Overlook and Mount Liamuiga, while birdwatchers will want to check out Turtle Beach.
The capital of this Caribbean island federation, the palm-filled Basseterre is renowned for its old-world charm and boasts landmarks like Independence Square that is surrounded by beautiful 18th-century houses. Have a memorable dining experience at Ballahoo, one of the most popular restaurants in Basseterre.
Not to be missed is the main settlement of Nevis, Charlestown. With one of the best-preserved old towns in the region, this charming destination is a great place to enjoy local cuisine and refreshing drinks at one of the many cafes and bars.
End your travel itinerary in St Kitts and Nevis with a visit to Frigate Bay, an isthmus that divides the two islands and is dominated by the luxurious Marriott Resort. The bay actually is home to two beaches. South Frigate Bay is located on the Caribbean Sea and boasts many beachfront bars and restaurants, while North Frigate Bay offers ideal conditions for swimming and spectacular views of the Atlantic Ocean.
Curaçao
Welcome to Curaçao, the largest island in the Netherlands Antilles. With a diverse heritage and nearly 40 pristine beaches, this Southern Caribbean island destination offers something for everyone. Culture vultures and art lovers will have a chance to visit many art galleries and museums, while adventure seekers can look forward to visiting attractions like Christoffel National Park, Queen Emma Bridge, Curaçao Seaquarium, and Jan Kok salt flats.
Go for a stroll in the lovely Willemstad, the capital of Curacao. This bustling city is packed with some of the finest examples of brightly colored Dutch architecture and the old town is actually a World Heritage site. Here, you will find many amazing bars, coffee shops, and restaurants. The less inhabited west side of the island is a great place if you wish to get away from it all and explore sleepy fishing villages, discover secluded coves, and experience world-class scuba diving.
There is no shortage of fabulous beaches on this tropical island in the Caribbean. The busiest beach is Blauwbaai (Blue Bay), a lovely beach well-known for its swaying palm trees, bright blue waters, and white sands. Expect to find plenty of dining options and basic facilities on this beach. If you wish to escape the crowds, we recommend going to Daaiboo Beach that offers free entrance and clear waters that are ideal for snorkeling.
Beachgoers who wish to party and experience the craziest Caribbean beach parties will want to visit the famous Mambo Beach.
Guadeloupe
Located in the Lesser Antilles, Guadeloupe is an overseas region of France archipelago that consists of five main islands including Grande-Terre, Basse-Terre, Les Saintes, La Désirade, and Marie-Galante. These dreamy islands are a destination unlike any other.
From thick forests blessed with picturesque waterfalls to lovely beaches and offshore coral reefs, Guadeloupe offers something for every traveler. Kick-off your Caribbean travel adventure with a visit to Basse-Terre where you will find the famous Guadeloupe National Park and its active La Soufrière volcano. The eastern island, Grande-Terre is the main hub and offers a wide range of activities including snorkeling, hiking, and bird-watching.
Guadeloupe's beaches are spectacular in every way and the main reason why many tourists flock to this archipelago. We recommend paying a visit to two of the most popular beaches, Saint-Anne or La Datcha. Here, you can enjoy swimming, snacking from food trucks, snorkeling, and volleyball. Hikers will want to reach the highest peak in the Lesser Antilles, the famous active volcano called La Grande Soufrière. It will take you about two hours to reach the summit, but the views from the top are spectacular and worth the hike.
The rainforests of the Guadeloupe National Park are home to the popular Carbet Falls that are definitely worth visiting. Snorkelers and scuba divers will be glad to hear that this archipelago is packed with spots for enjoying these water activities.
Spend a day at Malendure, Plage du Souffleur, and Petite Anse and enjoy hours of scuba diving and snorkeling. Foodies visiting Guadeloupe can enjoy Creole kitchen which is mixed with French traditions. Some of the must-try local dishes include Colombo (spicy chicken or goat marinated in spicy sauce and served with rice) and Bokit (a sandwich with chicken, cheese, ham, and eggs).
Martinique
Martinique is without a doubt one of the best islands to visit in the Caribbean. Famed for its unique culture, volcanic mountains, and stunning palm-fringed beaches, this French Caribbean island is a true paradise. Grande Anse des Salines is a picturesque remote tree-lined beach and one of the must-visit destinations for beachgoers exploring Martinique. If you wish to enjoy surfing, make your way to Diamond Rock which is one of the most popular beaches on the island.
To learn more about the history of the island, pay a visit to the capital city of Fort-de-France where you will also find local food stalls and spice markets. The Clement distillery and its botanical garden is a great place to learn about the island's connection to rum.
The island of Martinique is home to some of the best dining establishments in the Caribbean. With a mixture of French and Creole cuisine, the island is a real foodie's paradise. You will have a chance to try a variety of seafood-inspired dishes with homemade creole sauces and curries, as well as Caribbean-style foods cooked in a blend of spices that grow in Martinique. As for the drinks, try the national rum-inspired Ti' Punch.