We can all agree that the nightlife in St Barth simply can't be compared to the wild parties in places like Ibiza, Pag, and Barcelona. However, this picturesque island in the Caribbean is full of cool beach bars and clubs worth visiting.
From beach bars with live reggae music and perfect sunset views to posh party bars that serve unique cocktails and host international DJ music performances, here is our guide to the best bars in St Barth.
Beach Bars
Shellona
Travelers visiting St Barth will find Shellona on the famous Shell Beach. With amazing views of the surrounding cliffs and the crystal-clear sea, this beach bar and restaurant is a perfect place to unwind during the day. The sunset views are also spectacular. Shellona is located at the foot of the Hôtel Barrière Le Carl Gustaf and offers delicious foods, a range of drinks, live bands, and DJ performances.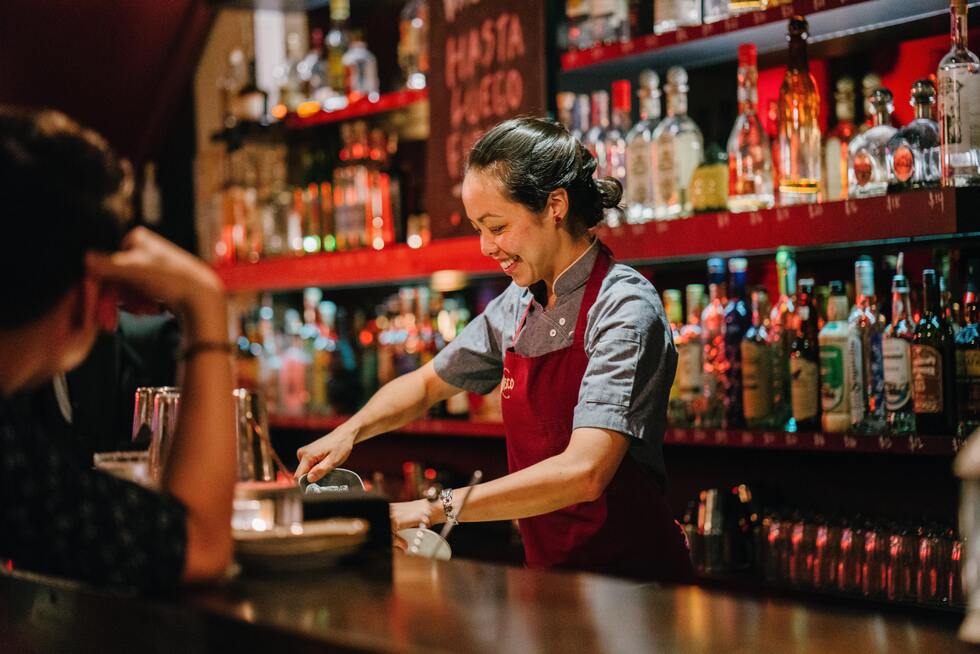 Chef, Yannis Kioroglou, is in charge of preparing burgers, seafood dishes, mezze, salads, and grills served on big turquoise-blue plates. Try the signature Greek toast grilled over wood and enjoy the bar's detox juices and cocktails. The homemade raspberry-watermelon lemonade is extremely tasty.
Eden Rock
The Sand Bar at Eden Rock Hotel is one of the newest additions to the bar/club scene in St Barth. This newly expanded bar is a great spot to unwind with a drink or two and enjoy magnificent views of the beautiful Baie de St. Jean.
What's on the menu? Expect to find an extensive cocktail list, delicious breakfast buffet, and a fabulous a la carte lunch menu with options such as fresh seafood, whole-wheat pizza, and exotic salads. Try the La Corne On the Rocks cocktail that includes lime juice, mint, raspberries, and rum.
Party Bars
Baz Bar
A charming tavern located on the Gustavia waterfront, Baz is an ideal place to eat fresh sushi, listen to live music, and enjoy a range of drinks. Sit on the outdoor terrace and listen to live music performances from 9 pm and enjoy delicious foods such as chicken with curry and coconut, the signature Bento box, and beef sauteed Saykio Miso. Baz Bar also serves Poke Bowls with options such as rice noodles, red quinoa, veggies, and cheese.
Located at the end of the harbor, the spot is ideal to have a drink on the terrace or inside to enjoy the atmosphere. Enjoy the Bête à Z'ailes bar to the rhythm of the music bands that come to play live every month! A very lively bar with live concerts every weekend! If you are visiting for dinner, we recommend ordering homemade burgers, ramen with lemongrass, sushi boats, or tuna yakitori with sesame. In addition to tasty foods, the bar offers a list of spirits, wines, and cocktails.
Bagatelle Bar
Located directly on the harbor in Gustavia, Bagatelle Bar is a chic restaurant and bar where signature cocktails are made with fresh ingredients and where food by Chef Sofiane Dridi is mouthwatering. Guests love the magnificent views of the harbor and add that the resident DJ Fabien Lanciano is playing great music.
Popular cocktails include Patron Mexican Kiss, Super Mojito, Olympic Piscine, and Mega Sex on the Beach. If you are in the mood for seafood, get the linguine with clams. Meat lovers will want to try the slow-cooked lamb leg.
Bonito Bar
One of the hottest bars in St Barth, Bonito Bar is a place to be seen when spending your vacation days on this charming Caribbean island. This stylish and elegant establishment is located close to the port of Gustavia and is well-known for its sophisticated ambiance and tastefully decorated interiors.
The terrace dining room is a great place to unwind with a cocktail in your hand and enjoy breathtaking views of the Caribbean Sea and the luxurious yachts. Foodies can look forward to trying French food specialties with Latin flavors prepared by Chef Laurent Contineaux. This posh cocktail bar and restaurant also hosts live DJ performances throughout the week.
Lounge Bars
Quarter 25
Quarter 25 is one of the most recent additions to the restaurant and bar scene in St Barth. Located in the heart of Gustavia, this funky venue is without a doubt the most unique place to go out in St Barths. What makes this place so special?
The interior is stylish, there's an impressive slate of 135 bourbons available, and more than 330 vintage, rare, and limited edition rums. The bar also hosts master cooking classes and regular celebrations of the world of spirits. On the food menu, you will find plenty of vegan items and tapas. If you are planning to visit on Wednesday, you can attend the bar's raw vegan and gluten-free food tasting. It is also one of the few places in the area to offer Cold Pressed Juice Cleanses.
Sky bar
The elegant Sky Bar St Barth is a one-of-a-kind bar with delicious cocktails, tastefully decorated interiors with comfy sofas, and great music. Open seven days a week, this amazing bar offers panoramic views over the lights in the Gustavia port.
In addition to a chic décor and magnificent views, Sky bar also serves a selection of cocktails, wines, and spirits. Once you get hungry, order something from their new sushi bar menu. We recommend trying the signature handcrafted maki rolls.
St Barth offers indeed a great diversity of bars, restaurants, and culinary specialities. The French roots of the island as well as the Creole culture take part in the richness of the St Barts gastronomy. Such richness is also to be found in the numerous cultural attractions of the island!