Not many places in the world are as beautiful as Saint-Barthelemy. Located in the northwest Caribbean Sea, this charming island is a popular tourist destination best known for its white sandy beaches, picturesque colonial-style houses, and high-end boutiques.
Although scuba diving may not be the first thing that comes to mind when thinking about St Barts, the island is home to some of the best diving sites in the Caribbean.
There are 22 dive sites around the island ranging from coral reefs and canyons to shipwrecks. The good news is that diving is available for all skill levels and all dive sites on the island are easily reachable.
Travelers will be also happy to hear that scuba diving in St Barts is possible throughout the year.
The average visibility varies somewhere between 65-98ft, while the approximate depth of dive sites is about 65ft. If you wish to discover a dazzling array of aquatic flora and fauna, you've definitely come to the right place!
St Barts Marine Reserve
The reef biodiversity in St Barts is simply amazing thanks to the island's Marine Reserve that was established back in 1996. This fascinating marine reserve was created to protect marine life, especially turtles and humpback who are residents of St Barts.
Under the protection of the reserve, all forms of anchoring and fishing are prohibited nowadays.
Because of these measures, the island has the most protected ecosystem in the Antilles and offers a safe haven for a great variety of coral and sea life.
Diving in the marine preserve is relatively shallow, which enables plenty of sunlight to illuminate the marine life underwater.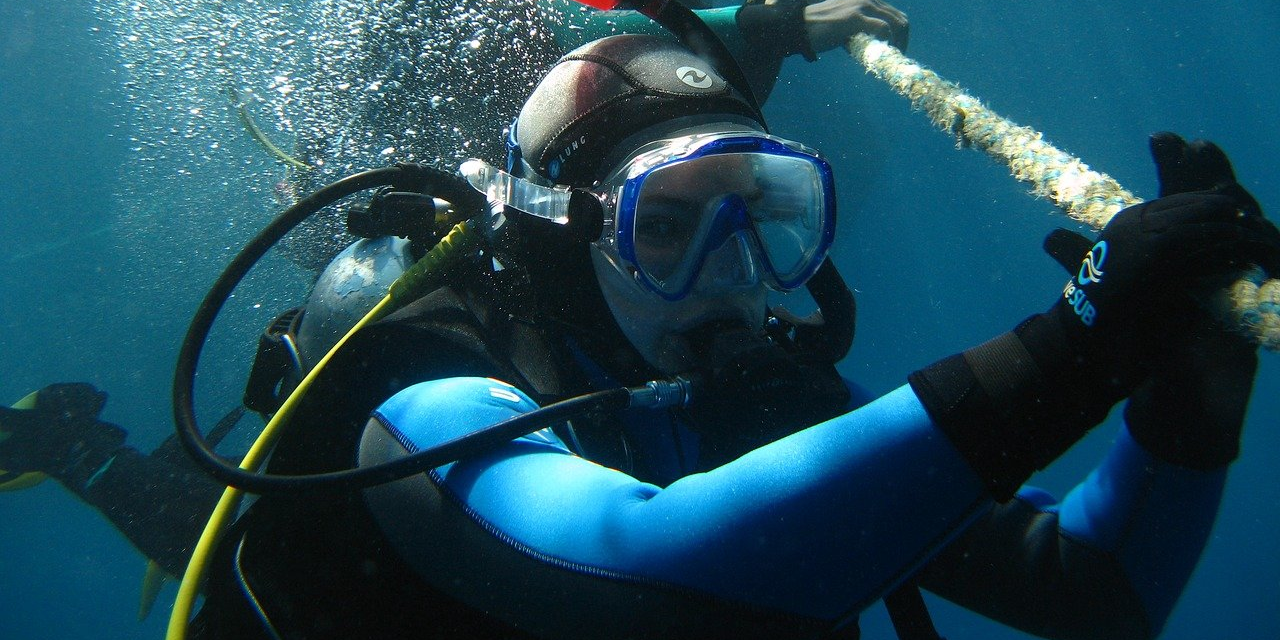 What to See
Thanks to the island's Marine Reserve, the marina flora and fauna here in St Barts is the most diverse in the Caribbean. The majority of dive sites can be found within the nature reserve that is located just a short boat ride from the shore.
Expect to see lots of barracudas, as well as turtles, eagle and stingrays, and tarpons. You'll also find Caribbean exotic fish including nurse and reef sharks, lobster, surgeonfish, damselfish, and triggerfish. Keep your eyes out for starfish, crabs, brittle stars, urchins, and other small marine creatures.
Best Diving Sites
The majority of the more than 25 scuba diving sites are located in the Marine Nature Reserve. These dive sites are easily accessible and provide excellent visibility.
No matter your preference or ability, the options for a memorable diving experience in St Barts are plentiful.
Dive sites surrounding the Gros Ilets just off Gustavia are amazing. Expect to find crystal-clear waters and abundant sea life at the most easily accessible site on the island.
There is also the nearby La Baleine where divers can look forward to seeing everything from giant sponges to hard and soft corals.
Continue your scuba diving adventures with a visit to one of the most popular dive sites on the island, Pain de Sucre.
The rock formation here is actually home to a few dive sites for both beginner and experienced divers. If you wish to explore the north-west point of St.
Barths, don't miss the fascinating Anse de Colombier where you will find Ile de la Pointe and Rockefeller Point diving sites. Here, expect to see barracuda, rays, and sea turtles.
Halfway between Colombier and Ile Fourchue, Baril de Boeuf dive site is an excellent reef dive suitable for all ability levels. There is also Ile Fourchue, one of the more distant dive sites.
Wreck Diving in St Barts
Travelers who are into wreck diving will be glad to hear that St Barts is home to a few excellent wreck sites. The most famous wreck dive is definitely Kayali, a trawler that sank in 1994.
Keep in mind that this site is recommended only for experienced and certified divers. Expect to see sea turtles and large spotted eagle rays.
There is also the Nonstop wreck dive site. Located close to the Gros Ilets, this is a luxury yacht that sank during Hurricane Hugo. Two additional wreck dive sites include Marignan and Dakar. Both can be found near Gustavia.
Diving Centers in St Barts
Serial Divers is one of the most popular diving centers in St Barts. Located in Gustavia, this company is there to ensure your comfort and safety while exploring the underwater wonders of the island.
Let professional French instructors teach you everything about modern scuba diving techniques. The diving centers offer everything from training courses (CMAS, PADI, SDI/TDI) to the equipment necessary for inflation and NITROX diving.
Plongée Caraïbes
With their luxury catamaran with state-of-the-art onboard facilities, Plongée Caraïbes dive center is an excellent choice for travelers looking for a reliable dive company with attentive and professional staff.
Their boat Blue Cat can accommodate up to 30 people and takes you to some of the most beautiful and peaceful dive sites.
Once the boat is docked, feel free to dive and discover an array of marine life ranging from grey reef sharks and eagle rays to turtles. They can also take you to the 4 dive wrecks to explore and even offer diving excursions around the unspoiled Coco Island.
Whether you wish to go dive in Aquarium des Gros Islets or enjoy fun diving or dive courses that are also on offer, Plongée Caraïbes and its team offer a variety of services.
The oldest commercial dive operator in St Barts, La Bulle is ranked on Trip Advisor as the best dive operator on the island. They have 50 years of experience and offer a wide range of diving excursions, as well as private dive guiding and snorkeling trips.
Co-owners and instructors Didier and David can also provide dive courses including everything from introductory dives to Divemaster certifications. You will find La Bulle's base in Gustavia harbour. Keep in mind that dive site selection is made on the day of sailing and dependent on both the dive experience of guests and sea/weather conditions.