Better known as St Barts, Saint Barthélemy is well-known for its relaxed island charm. This Caribbean beauty is blessed with postcard-perfect beaches, secluded coves, and quaint coastal villages.
Instead of high-rise resorts, expect to find private villas and boutique hotels that attract large crowds of celebrities to this sun-soaked island.
The Caribbean island of St Barts is not short on water activities. Whether you wish to enjoy surfing, have a memorable sailing trip, or go scuba diving and discover a variety of marine life, this French-speaking island offers something for every adventurous traveler.
The volcanic island of St Barts is also a destination where tourists can go on a fishing trip under controlled circumstances.
St Barts Marine Reserve Fishing
The greatest fishing opportunity can be found at the Marine Reserve. Here, travelers will find 5 sanctuary zones that focus on protecting marine life, but also allow water sports like boating, diving, and fishing.
You should keep in mind that the island has taken great care to preserve the local marine habitat from exploitation.
Fishing in the Marine Reserve is possible from the shore, as well as from a drifting boat. The overall idea is to preserve the fish and interfere with marine life as little as possible. To go fishing in the reserve, one needs to obtain a fishing license.
It is also worth mentioning that certain rules need to be followed when fishing in the reserve. For instance, fishing for lobster and conch is a big no-no! Visitors who wish to go fishing in the Marine reserve should also know that spearfishing is not allowed.
There are many areas in the reserve where fishing is strictly prohibited. The best way to find out where you are permitted to go fishing and which parts of the reserve allow drifting boats is to visit the website of the Marine Reserve where all the necessary information can be found.
Here is the link to the map.
Their site is really cool, as it offers plenty of interesting information like updates on recent whale and dolphin sightings in the area. Click here to find out more.
Also, their website lets you know about the species of fish you might catch in the reserve. The graphics and the brochures look great and are quite informative.
If you are planning to use a boat in the reserve for fishing, you should know that it is strictly prohibited to anchor in this nature reserve. Also, travelers with a boat must keep their speed limit under 5 knots in certain areas.
Feeding any of the wildlife is not allowed, since the main aim of the Marine Reserve is to protect the underwater marine life around the island.
Fishing outside the Marine Reserve
The good news is that fishing is possible in certain areas outside the Marine reserve. Coastal villages like Anse des Flamands and Corossol are well known for their fishing heritage.
To get away from the busy tourist spots, we recommend paying a visit to the village of Corossol. There is also Anse des Flamands that is bordered by the reserve and is home to the largest beach on the island.
Where and how do I fish at these places?
It's quite simple. You can talk to the local fishermen in these villages and see if they want to share some fishing secrets. You can also book one of the offshore fishing charter excursions where you will have a chance to catch mahi-mahi, wahoo, tuna, barracuda, marlin, and more.
St Barts Deep Sea Fishing
One of the noblest forms of fishing, big game fishing is quite popular in St Barts. Your catch will often be released, but you will have an opportunity to catch fierce fish opponents like barracuda, tarpon, and wahoo.
For example, May through September is the best time for Marlin fishing here in St Barts. Jerome Lefort's St Barts Deep Sea Fishing Guide offers personal fishing charters, fly fishing for tarpon and snook excursions, and deep-sea marlin fishing trips.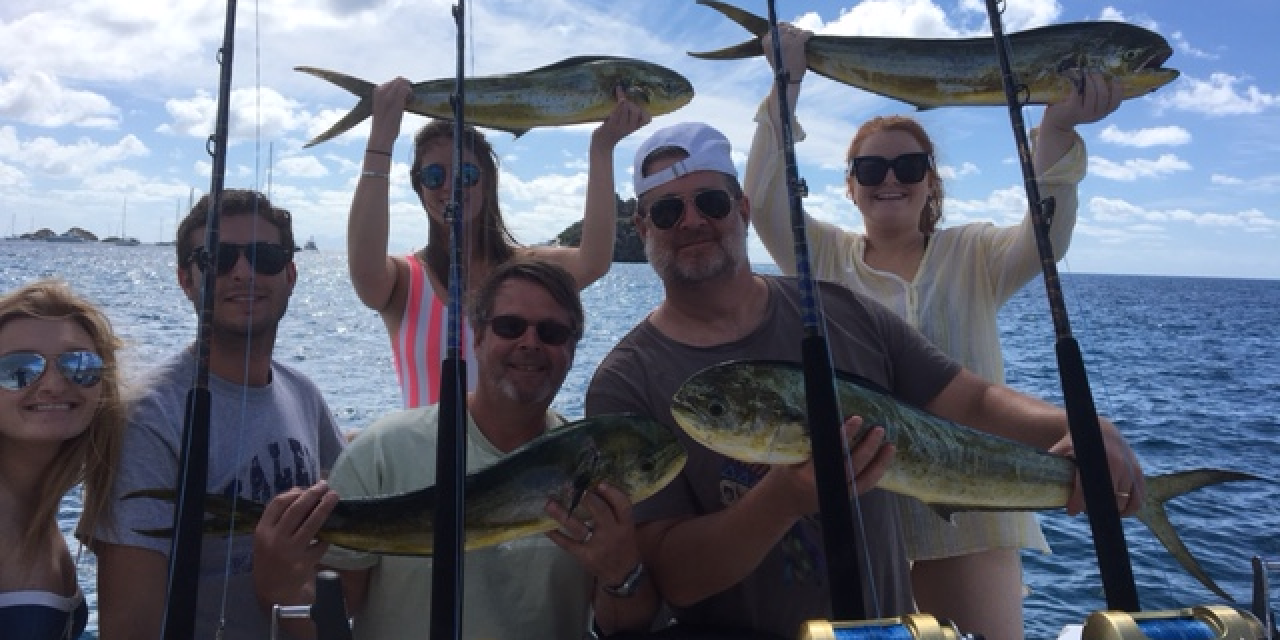 Fishing with Patrick LaPlace
Patrick Laplace knows everything there is about fishing in St Barts. This comes as no surprise, as his family has been living and fishing on the island for seven generations. On some days, Patrick is going fishing to supply local restaurants with catch of the day.
However, Patrick also offers fishing excursions on his private boat. He can also teach you about his favorite fishing technique, catching fish with a handline. Hop on his boat and venture into the deep waters further away from the coast where you can catch Yellowfin tuna, mahi-mahi, and wahoo.
For catching a lobster, it's definitely better to stay closer to the shore.
Apart from offering Jet Ski rentals and snorkeling and scuba diving excursions, Jicky Marine also organizes deep sea fishing trips. These guided fishing trips with a licensed captain include all the necessary fishing equipment, an open bar, and gasoline.
What's not to like?
Fishing in St Barts can be a memorable experience. Whether you wish to explore the Marine Reserve and enjoy fishing both from the shore and from a drifting boat or you want to discover sleepy coastal villages and get some useful information from the local fishermen, there is plenty to look forward to when visiting the charming Caribbean island of St. Barts.