Welcome to Saint Barthelemy, a picturesque Caribbean island in the French West Indies. Well-known for its pristine beaches with turquoise waters, colonial-style houses, and posh boutique hotels and villas, this overseas collectivity of France is an ideal destination for that perfect tropical vacation and sunbathing.
St Barts is also home to luxurious beach clubs, yacht-filled harbors, beautiful coastline and elegant dining establishments where travelers can enjoy a mixture of French and Caribbean cuisine. At least, it's an incredible place to water sports, freediving and snorkeling trip.
Snorkeling in St Barts
Adventurous travelers visiting St Barts can look forward to a variety of water sport ranging from surfing and sailing to kayaking and scuba diving. However, one of the most popular water activities on this magnificent island is snorkeling. Thanks to the island's Marine Reserve that was created in 1996 to protect marine life in Carribean-Sea, St Barts offers ideal conditions for snorkeling. Below the surface, its deep blue and clear waters are home to sea turtles, rays, eels, tarpon and tropical fish, and many other lovely marine creatures.
Expect to find a few dive shops on the island that rent or buy snorkeling gear, diving equipment, mask, snorkel, diving flippers and wetsuits, as well as a few local companies that organize off-shore snorkeling excursions. There are organized snorkeling tours of the Marine Nature Reserve. After a short boat ride, you will arrive at the reserve where the licensed instructors will provide you will all the necessary snorkeling equipment.
The good news is that the Marine Nature Reserve in St Barts offers a vast array of underwater life. Of course, you can put your own snorkeling gear and visit some of the best places for snorkeling on the island by yourself.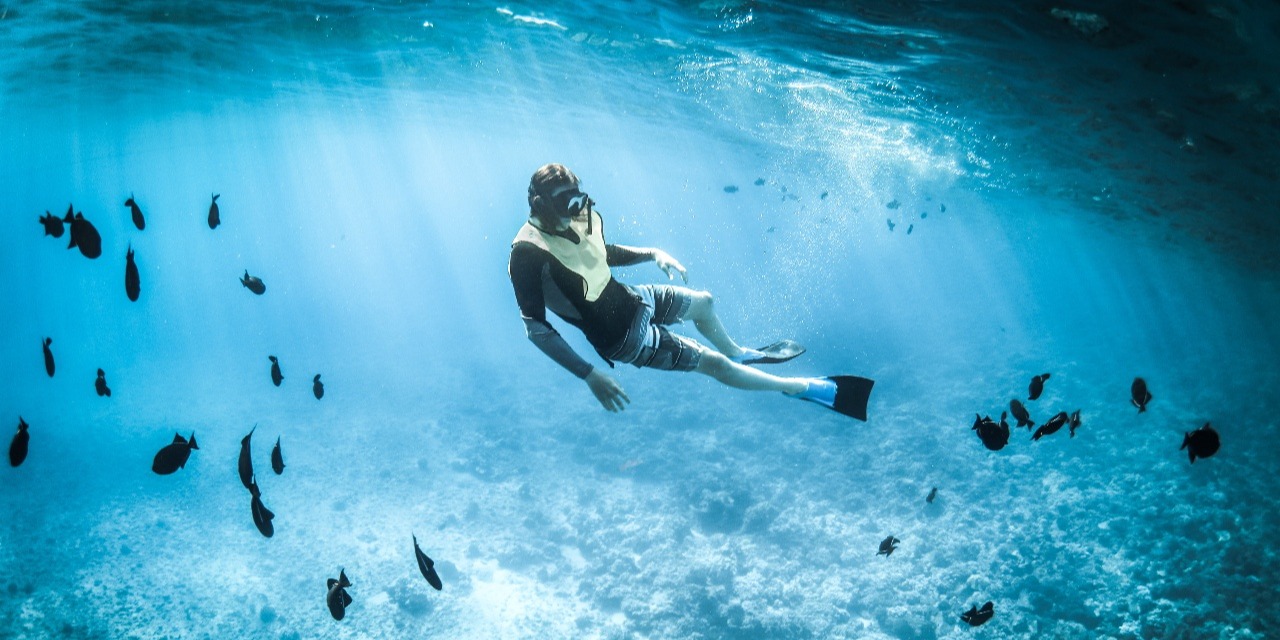 Best Time to Snorkel in St Barts
The good news is that visitors can snorkel all year long in St Barts. However, even if beaches are beautiful during all the year, the best time to snorkel here is during the dry season which runs from December to June. The sea temperature is steady throughout the year and varies from 26°C to 29°C. You won't be cold once you get out of the water, as the temperature outside the sea is 28-30 ° C on average.
The island experiences almost no wind during the dry season and long sunny days are expected from December to June. The rainy season lasts from July to November when showers and dark clouds can be experienced. Keep in mind that December and January are the high season in St Barts, which means that booking accommodation well in advance is simply a must.
Best Snorkeling Spots in St Barts
It doesn't really matter where you are staying on the island, as snorkeling spots can be found all across St Barts. From Colombier, that is one of the most popular destinations for snorkeling, to Lorient where snorkelers can look forward to seeing turtles and Fourchue Island that is accessible only by boat, there are plenty of snorkeling destinations in St Barts to choose from. To make the most out of your stay, here is a list of the best places to snorkel in Saint Barthelemy, paradis of scuba divers.
1- Colombier
Listed as a natural marine reserve, Colombier Beach is without a doubt the best destination for snorkeling in St Barts. However, getting to this wonderful beach is not that easy. Wild and unspoiled, the beach is only accessible via boat or by going on a moderate 30-minute hike.
It is worth mentioning that the hike takes you through a picturesque forested path where you can have encounters with some indigenous wildlife such as mountain goats and tortoises. The path is steep, but also scenic. Make sure to wear some comfy snickers rather than flip-flops when visiting Colombier.
Once you arrive, expect to be blown away by the sheer beauty of this secluded beach with crystal clear turquoise waters. Colombier Beach offers ideal conditions for snorkeling. Visitors can look forward to spotting turtles frolicking in the seagrass bed, as well as rays, remoras, and barracudas.
2 - Lorient
Nestled in the center of the northern shore of St Barts, Lorient Beach is home to a large reef that offers ideal conditions for swimming. Along the eastern end of the beach, you will find an excellent spot for snorkeling. It is very common to spot a few sea turtles while snorkeling here. The beach is famous for its seabed, but visitors should watch out for the waves. As for the far western side of Lorient, it features long breaking waves and attracts surfers. In case you get hungry after all the snorkeling, pay a visit to the Lorient beach club and enjoy a snack from the nearby Jojo Burger and La Petite Colombe that offers tasty baguettes and croissants.
3 - Marigot Bay
A part of the Marine Reserve, Marigot Bay is a delightful small cove lined by palm trees. The bay is never crowded and offers excellent opportunities for activities like swimming, scuba diving and snorkeling by the rocks. If you are searching for a secluded spot and wish to avoid large crowds of tourists, you've definitely come to the right place.
4 - Petite Anse
Located just beyond Flamands and before the goat trail that leads to Colombier, Petite Anse is a small bay protected from the sea by large rocks on either side. Although the beach has hardly any sand, the shallow water here is crystal clear and offers good conditions for snorkeling on calm days. Expect to see some healthy coral along the rocks and lots of fish.
5 - St Jean, Pelican side
Travelers will find the St Jean Pelican side right in front of Nikki Beach. The sea and its blue water here are quiet and visitors will have a chance to spot lots of sea turtles not far from the shore. It's perfect place for beginners divers.
6 - Fourchue Island (Ile Fourchue)
Fourchue Island is a great spot for snorkeling and sea life and offers the occasion of a great excursion. Only accessible by boat, this small island is located about 8km by boat from Gustavia. Paradis of free diving, Ile Fourchue is home to a well-sheltered rocky bay where snorkelers can admire the beauty of brightly colored reef fish and have close encounters with sea turtles and octopus. You can visit this island with your own boat or join one of the many sailing and snorkeling excursions from Gustavia.