Renting a car is one of the best ways to truly experience the French-speaking Caribbean island of St.Barts. Although taxis are also available, having your own car will be much more flexible.
Getting a car rental in St. Barts is easy and a stress-free experience. You can either pick up a car from one of the many car rental agencies at the airport or have a rental vehicle delivered to your hotel or villa.
It is also worth mentioning that many hotels keep an assortment of rental cars on-site, especially in the off-season.
St. Barts Rental Agencies
One of the most famous US companies in the car rental industry, Hertz offers many vehicle rentals in St.Barts. All of their rental cars are in perfect condition and range from Nissan and Suzuki to Mini Cooper, BMW, and Kia.
Operating since 1982, Turbé Car Rental offers free car rental delivery to the port, airport, shuttle boat, and villas, and hotels. They can be reached 24 hours a day for both repair service and assistance. Special deals and vehicles are available for repeat guests.
A big US car rental company, Alamo offers their vehicle rental services in St. Bart. Alamo also has scooter and quad bike rentals available and operates in Gustavia too. They can deliver your car rental anywhere on the island.
With numerous pick-up and drop-off spots all over St. Barts, Thrifty is all about high-quality service. Apart from the high density of pick-up points on the island, the company also offers a wide range of car rentals.
Travelers visiting St.Barts can rent a car with Maurice Car Rental. With a wide range of vehicle rentals including Audi and Range Rovers and 24-hour customer service, this agency strives to make your stay on the island a pleasant experience.
Operating since 1974, Gumbs Car Rental specializes in SUVs and Mini Coopers rentals that are ideal for exploring the island of St.Bart. If you wish to rent a car from a local rental company in St. Barts, look no further than Gumbs. From air-conditioned SUVs to convertibles and family-size van's, this family-owned agency offers a wide selection of car rentals.
Operating in more than 160 countries, Avis is one of the most famous car rental companies in the world. The company is reliable and offers a wide range of vehicle rentals in St. Barts.
The owners of the Budget say how they are more than just a car rental service. Apart from offering a wide range of vehicles available for rent, the agency provides various additional services ranging from boosters seats and fuel options to hiring private drivers.
Soleil Caraibes offers free car rental delivery to the ferry in St.Barts. The company features an impressive car fleet that includes everything from premium to economic car models.
Located at the St-Jean airport in St. Barts, Top Loc offers both city and family cars. These rental vehicles can be delivered both at the port and directly to your hotel /villa. They also have electric cars for rent, as well as weekly and daily car rental packages.
Travelers looking for a great rental car deal in St.Barts should consider renting a car from Sixt. Whether you wish to get a sports car model, 4x4, or the latest convertible, this car rental agency in St.Barts has got you covered. You can use their reliable app for booking.
Welcome Car Rental
Although Welcome Car Rental doesn't have an office at the airport, they can deliver their vehicle rentals anywhere on the island including the airport in St.Barts. The agency has been in the business for the last 15 years and is known for its reliable and fast car rental service in St.Barts.
Barthloc is located in Gustavia, but this company also offers car rental services on the island of St.Barts. Besides renting a wide range of rental cars, the agency also has scooters and quad bikes available for rent.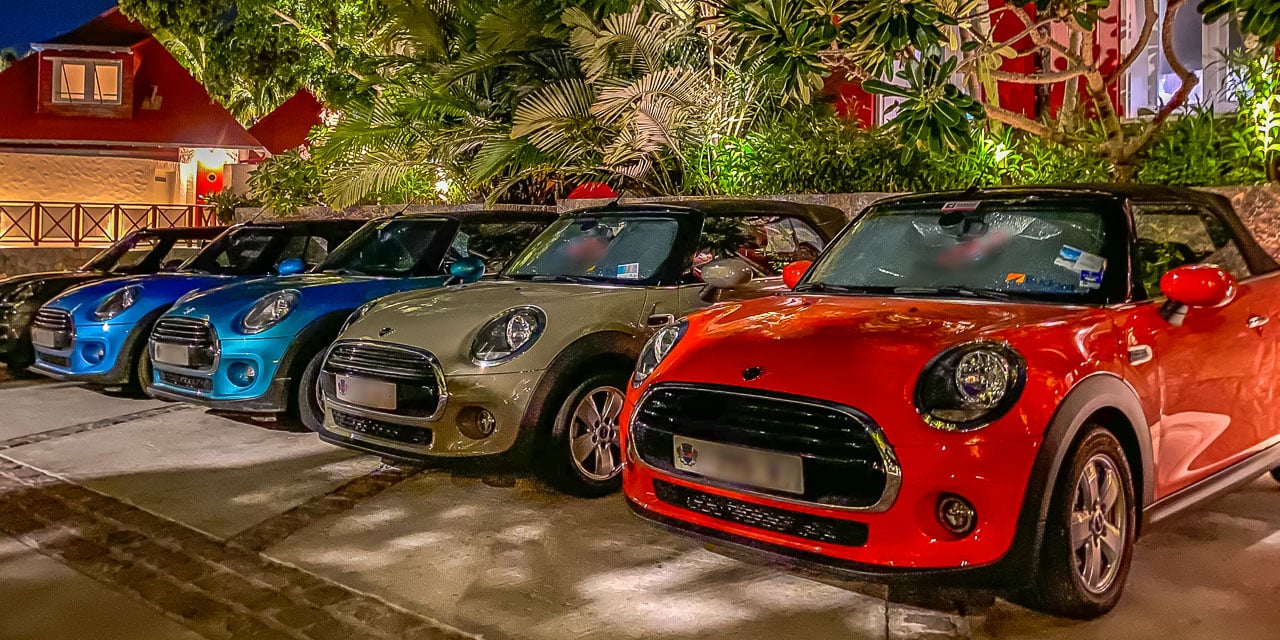 Useful Tips
Cars in St Barts are in high demand especially during the peak of the tourist season. The most popular car to rent on the island is an open-top mini.

Driving is on the right and maximum speed is 50kph

Seatbelts are required
The roads on the island are narrow and hilly, which makes smaller 4 wheels drive rental cars extremely popular.

There are only two gas stations on the island and both are closed on Sunday. One is located in Lorient, while the other can be found near the airport and has an all-night automatic pump.

Keep in mind that self-service pumps at the station do not accept foreign credit cards. It's best to visit during daytime when the cash desk is open.

Make sure to remember to return the car rental with the full tank.

Since the island of St.Barts is quite hilly, many villas and hotels are nestled on sloping grounds. This means that driveways to many hotels and villas can be quite steep. However, the sea views from the resorts are usually breathtaking.

Its always better to rent a car than a scooter in St.Barts. The truth is that the vast majority of road accidents on the island involve two wheels since the roads in St.Barts are narrow and slippery.

Your home country's driver's license is valid in St-Barts.

All major car-rental companies have desks at the airport. Most of the companies offer car rental pick-up all over the island.
We hope this article has helped you better understand why to rent a car in St Barts and the different options available to you. If you have chosen Happy Villa rental agency services for your stay, our Concierge will be delighted to take care of the reservation for you.
Simply collect your car from the chosen location, we'll take care of the rest!