It's no secret that the Caribbean island of St Barts has its own unique gastronomy. Fresh seafood is plentiful on the island, while the finest meats and dairy foods are imported from France. Therefore, it comes as no surprise that foodies from all over the world flock to this charming island to discover Creole flavors mixed with Haute-Cuisine and traditional French cooking techniques.
Satisfy your taste buds with refined Creole dishes like accras and stuffed crab or try French favorites such as beef tartar, French bread, cheese and wine, and foie gras.
Popular Dishes in St Barts
Accras is a local Creole dish that you will easily find all across the island. It's basically salt cod fritters with a spicy local sauce. If you are in the mood for some authentic Peruvian ceviche, chefs at the famous Bonita Restaurant offer delicacies like tuna ceviche, nikkei mixto ceviche, and lobster and avocado causa.
Fresh seafood is abundant in St Barts for obvious reasons. Whether you wish to order "catch of the day" or try a wide range of seafood delicacies, there is something for everyone.There is the option of purchasing fresh fish and preparing it in your villa rental, but make sure to arrive super early in the morning to the famous market in Gustavia.
French Gastronomy in St Barts
No visit to St Barts is complete without enjoying the French cuisine. For those who don't know, many French restaurants on the island are run by internationally renowned and chefs. This means that all classic French dishes are crafted to perfection. In addition to seafood delicacies like the traditional marble snails, travellers can indulge in a variety of meat dishes ranging from beef tartare and grilled lamb to duck breast.
The traditional cheese platter pairs perfectly with a bottle of French wine. The selection of imported wines at many restaurants on the island is simply amazing. Don't forget to try the traditional French baguette. If you have a sweet tooth, you will be delighted to hear that many French desserts are served at restaurants across the island. Go for the crème brulee or treat yourself to some delicious fondant.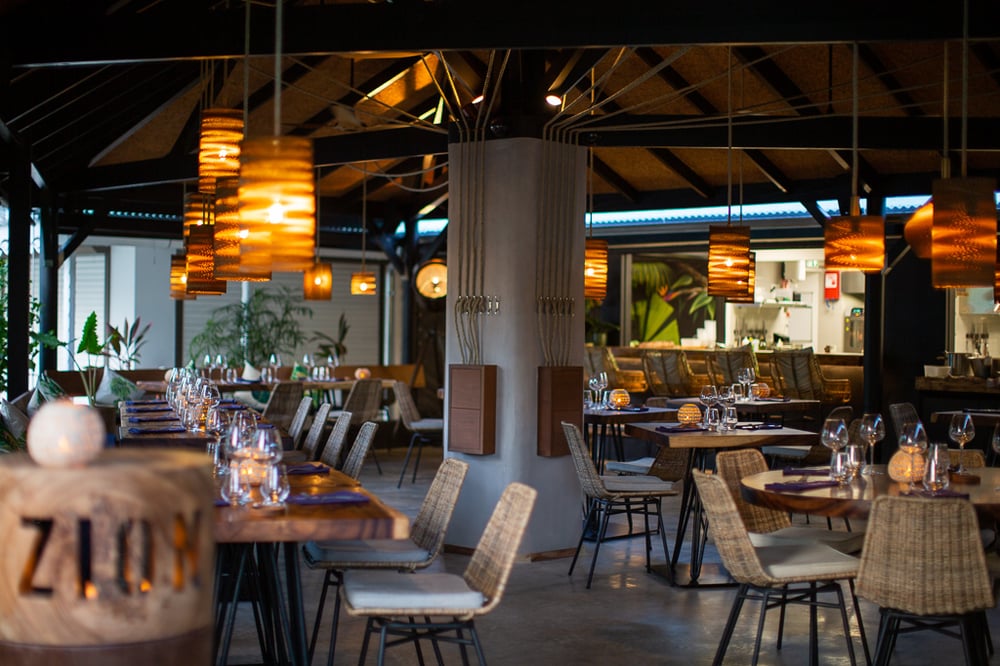 Creole gastronomy in St Barts
Most European travelers visiting St Barts are already familiar with the French cuisine. To discover new flavors, we recommend trying the local Creole cuisine here in St Barts. As a starter, try the cod snacks called accras that we talked about before. These snacks are paired perfectly together with a traditional rum-based cocktail, also known as ti'punch or planteur.
The best way to sample many traditional Creole dishes in one sitting is by ordering a typical Creole plate that includes everything from stuffed crab and grilled lobster to christophine with cod, blood sausage ("boudin"), and pork Colombo. As for the sides, order local veggies like pumpkin, avocado, and sweet potato. Ending your Creole meal with a sweet note is simply a must here in St Barts.
The island is known for a variety of exotic fruits including mangoes, bananas, pineapple, and passion fruit. Whether you are craving a fruit salad or want to share a pie, these local fruits are savored in all forms that you can imagine. As for drinks, Creole cuisine is famous for its different kinds of rum. Order a glass of rum with vanilla or go for rum with ginger.
St Barth Gourmet Festival
Organized by the Saint Barthelemy Tourism Committee, St Barth Gourmet Festival is a not to be missed gastronomic event when vacationing in the Caribbean island of St Barts. Launched in 2013, this food festival is an ideal event for foodies with a passion for travel. Held every November, St Barth Gourmet Festival is without a doubt one of the most famous gourmet festivals in this part of the world and attracts food enthusiasts from around the world.
Meet some of the best French chefs
So, what's it all about? During the festival, you will have an opportunity to mingle with some of the best French chefs in the world and sample their mouthwatering culinary creations and signature dishes. Every year, Michelin-starred chefs from France partner with top local chefs to create a several-course menu for 4 nights of tasting a series of extraordinary gastronomic indulgences. The festival also includes other events like wine tasting and competitions in preparing artisan cocktails.
Appointment for the 2021 edition
In 2020, this celebration of French gastronomy was scheduled for November 11-15. The famous Cedric Grolet was announced as the festival's patron chef and venues like Hotel Christopher, Le Barthélemy Hotel & Spa, Hotel Carl Gustaf, Le Sereno Hotel, Hotel Manapany, Nikki Beach, Le Tamarin and L'Esprit were supposed to be host for this event. Unfortunately, the event was cancelled due to the Covid-19 situation. However, we are hoping that in 2021 St Barth Gourmet Festival will be celebrating its 8th birthday.
To sum it all up, the island of St Barts with its mixture of Creole and French food delicacies has one of the best cuisines in the Caribbean. Also, the number of prestigious restaurants with famous chefs from France increases every year, making the island one of the most sought after foodie destinations in the Caribbean.